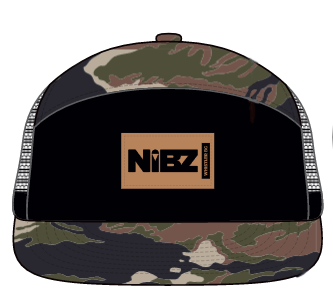 Hats
Ball caps to wear off the mountain and skull caps to help you stay warm under your helmet.
Free Shipping: Free ground shipping on all Canadian orders over $50 excluding GST & PST, to a max shipping cost of 30$.
Shipping is calculated at the check out for all out of country orders or those orders over 30$ in shipping charges.
Delivery: The estimated delivery time is between 5-7 business days. In the event of a holiday, shipping may be delayed. Please allow 1-2 business days for your order to process before it is shipped.
Tracking: You will receive one or more tracking numbers on the confirmation e-mail we send you when your order is shipped. This tracking number can be used to check the status of your package at our shipping carriers' online stores
Cancelling an order: You may cancel an order at any time prior to processing by emailing info@nibz.ca. Unfortunately, we are not able to cancel orders once they have been shipped.
Returns:
We stand behind our product, but if you are not 100% satisfied with your purchase you can return the product and get a full refund or exchange the product for another one, be it similar or not at the same value you paid.
You can return a product for up to 30 days from the date you purchased it.Any product you return must be in the same condition you received it and in the original packaging. Please keep the receipt.
Shipping Policy
<p><strong>Free Shipping:</strong> Free ground shipping on all Canadian orders over $50 excluding GST &amp; PST, to a max shipping cost of 30$.<strong>&nbsp;</strong></p> <p>Shipping is calculated at the check out for all out of country orders or those orders over 30$ in shipping charges.&nbsp;</p> <p></p> <p><strong>Delivery:&nbsp;</strong>The estimated delivery time is between 5-7 business days.&nbsp;In the event of a holiday, shipping may be delayed.&nbsp;Please allow 1-2 business days for your order to process before it is shipped.</p> <p></p> <p><strong>Tracking</strong>:&nbsp;You will receive one or more tracking numbers on the confirmation e-mail we send you when your order is shipped. This tracking number can be used to check the status of your package at our shipping carriers' online stores</p> <p></p> <p><strong>Cancelling an order:</strong> You may cancel an order at any time prior to processing by emailing info@nibz.ca. Unfortunately, we are not able to cancel orders once they have been shipped.&nbsp;</p> <p></p> <p><strong>Returns:&nbsp;</strong></p> <p>We stand behind our product, but if you are not 100% satisfied with your purchase you can return the product and get a full refund or exchange the product for another one, be it similar or not at the same&nbsp;value you paid.&nbsp;</p> <p>You can return a product for up to 30 days from the date you purchased it.Any product you return must be in the same condition you received it and in the original packaging. Please keep the receipt.</p> <p></p> <p></p> <p></p>